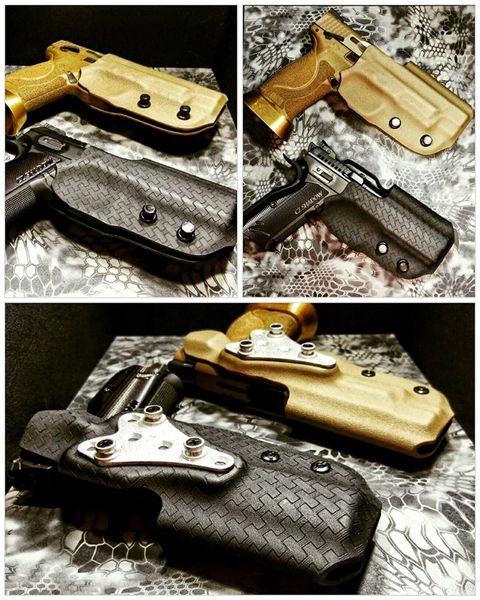 The Competitor
This holster is designed for the stand & shoot or the run & gun competitor. The standard model comes in .093 black kydex, open sights, and is placed on a Blade-Tech drop & offset mount with a tek-lok attachment.  This holster is equipped with tensioners to adjust passive retention.
Retention options are available at an additional cost, as well as, a variety of colors (.093 ), site exposure options, and clip/mount attachments.  CHARLIE MIKE TACTICAL SOLUTIONS MAY CONTACT YOU FOR ADDITIONAL DETAILS.  If you are looking for a holster with an auto hood style retention, please check out our duty holster.
Competition holsters are made in .093 kydex if possible, but not all patterns and colors come in .093.  Please refer to the Color Swatch tab to see availability.  We recommend .093 for durability, especially when used in competition type settings.  If you do not want .093 and would rather have .080, please make sure to check the necessary boxes while building your holster.
LIGHT/LASER ORDERING 
If you don't see a specific light/laser in the drop down menu for lights
        1) Check Inventory tab to see if your light is available
        2) Some firearms have specific light/laser attachments, and will be available when selecting your firearm.
COLOR/PATTERN SWATCH LIMITATIONS

            1)  PLEASE TAKE NOTE OF PATTERNS WITH THIS SYMBOL (*), THESE PATTERNS COME ON A SMALLER PIECE OF KYDEX, WHICH MAKES LARGER FIREARMS HOLSTERS DIFFICULT TO MAKE.  THE ADDITION OF LIGHTS/LASERS COULD ALSO LIMIT THE USE OF THESE COLOR/PATTERN SWATCHES.  PLEASE CONTACT US IF YOU ARE UNSURE AND ARE INTERESTED IN A COLOR SWATCH.    
            2)  E and F swatches with a centered picture, like the Spartan, Skull, Thin Blue Line, etc... these patterns will be in the bend of the holster, please check the "Inside the Waistband" gallery before ordering to ensure you like how those patterns are displayed.  IWB's share a similar folded over style.