Duty Holster (ON THE JOB)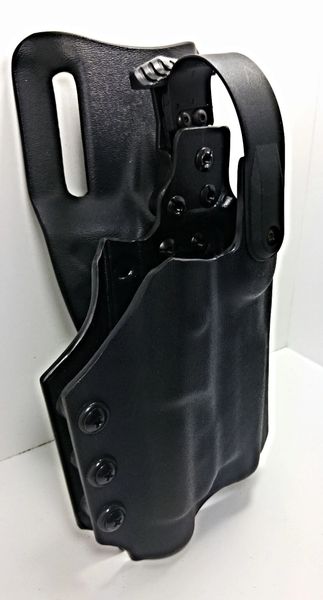 Duty Holster (ON THE JOB)
The Duty (ON THE JOB) Holster is constructed of sturdy .093 Black Kydex (standard option), set on a Blade Tech Duty Mount (standard option), with a Blade-Tech Auto Hood.  A light bearing model is available at additional cost, as well as, different mount and color options (.093 colors/patterns only, please see .093 color list on swatch tab).  We sometimes experience a delay in the delivery of some mounting systems, Charlie Mike will always reach out to you to let you know if your holster delivery will be slightly extended. 
The Duty (ON THE JOB) holster has been battle tested and proven to be effective in the line of duty.
LIGHT/LASER ORDERING 
If you don't see a specific light/laser in the drop down menu for lights
        1) Check Inventory tab to see if your light is available
        2) Some firearms have specific light/laser attachments, and will be available when selecting your firearm.
ATTENTION:   Even though this holster has been approved by an undisclosed police department, all service members should check with their department's specific regulations before wearing this holster on duty.  Charlie Mike Tactical Solutions WILL NOT be held accountable for any departmental issues / incidents involving this holster. 
Duty Holster Policy:  Charlie Mike Tactical Solutions does not provide returns.  Charlie Mike Tactical Solutions will make minor adjustments for the lifetime of the holster  (replace screws, spacers, minor molding adjustments) .  We will replace major breaks for up to one year from purchase date of your holster, proof of purchase must be provided and broken holster must be returned.