The Undercover (Tuckable IWB)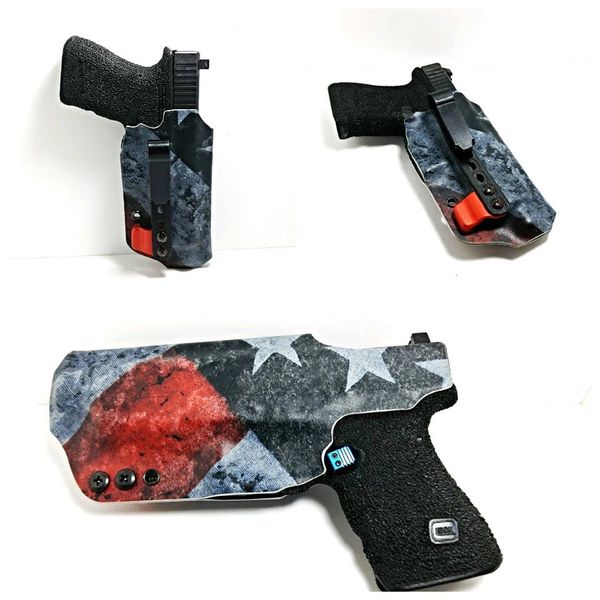 The Undercover (Tuckable IWB)
The Undercover is an Inside the Waistband Holster (IWB) that provides a deeper concealment, as well as, giving the wearer the ability to tuck in their shirt.  The standard model comes in black kydex with your choice of a 3 or 4 hole J-clip. 
You have the option to change the color of your holster at an additional cost.
LIGHT/LASER ORDERING 
If you don't see a specific light/laser in the drop down menu for lights, check firearms list since some of our molds have the light included.
COLOR/PATTERN SWATCH LIMITATIONS

            1)  PLEASE TAKE NOTE OF PATTERNS WITH THIS SYMBOL (*), THESE PATTERNS COME ON A SMALLER PIECE OF KYDEX, WHICH MAKES LARGER FIREARMS HOLSTERS DIFFICULT TO MAKE.  THE ADDITION OF LIGHTS/LASERS COULD ALSO LIMIT THE USE OF THESE COLOR/PATTERN SWATCHES.  PLEASE CONTACT US IF YOU ARE UNSURE AND ARE INTERESTED IN A COLOR SWATCH.    
            2)  E and F swatches with a centered picture, like the Spartan, Skull, Thin Blue Line, etc... these patterns will be in the bend of the holster, please check the gallery before ordering to ensure you like how those patterns are displayed. Our Standard IWB shares a similar folded over, if you would like to check that gallery as well.